Zelda Littlejohn is a ghost expert and a character in Ghostknight.
Biography
Edit
Ghost KnightEdit
Main article: Ghost Knight
Zelda is mentioned by Angus as Ella's grandmother and to be a ghost tour guide, and perhaps a real witch. Jon slips away to meet her because of the the ghosts who have been pestering him.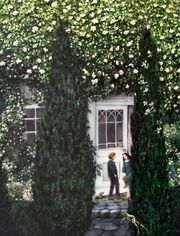 She lives not far from Salisbury Cathedral, lying near an old mill, right behind the soggy meadows, and through its cast-iron garden gate there is a very good view to the cathedral. One of the rumours there is is that there were packs of toads hopping around in her house, which is confirmed to be true as John sees one or two hopping around her house.
Physical Appearance
Edit
"I braced myself for the worse. However, the old lady, who was lying on the bed and had a bandaged foot, did not seem very frightening. Zelda looked like an owl that had fallen from its nest. Her glasses seemed far too big for her little wrinkly face, and her short gray hair looked like ruffled feathers."
—Jon Whitcroft sees Zelda for the first time
Zelda has disheveled hair.
Personality
Edit
Relationships
Edit
Ella Littlejohn
Edit
Zelda is Ella's grandmother. When Ella goes missing, she is frantic.
Matthew Littlejohn
Edit
Jon Whitcroft
Edit