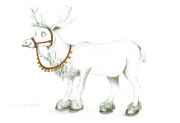 Twinkletoes is a marzipan-loving but thunder-shy invisible reindeer. One night, lightning struck the sky, frightening Twinkletoes, therefore he broke his reins and plunged down to earth, leaving
Niklas Goodfellow
's caravan reindeerless, so it plunged down to the ground, right smack in Misty Close Street, leaving the caravan leaning into the gutter, two of its wheels broken.
When Niklas, with the help of two children, Ben and Charlotte, finds Twinkletoes, it turns out he took refuge in a shopping mall, because of the marzipan being sold there.
Ad blocker interference detected!
Wikia is a free-to-use site that makes money from advertising. We have a modified experience for viewers using ad blockers

Wikia is not accessible if you've made further modifications. Remove the custom ad blocker rule(s) and the page will load as expected.