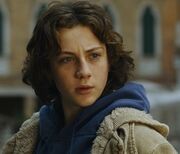 Prosper is a 12 year old orphan and the main character in The Thief Lord
History
Early Life
Before his mother died, she used to tell him and Bo vivid stories about Venice, which was what inspired the two runaways to flee to Venice when she died.
The Thief Lord
Main article: The Thief Lord (novel)
Appearance
Prosper has brown hair and blue eyes, and usually has a very serious looking face.
Personality
He tends to worry excessively, but is mature for his age. Prosper is sensitive and does not like stealing. Prosper forbids Bo from stealing, worrying that Esther would have reason to point out Prosper is turning him into a thief.
Relationships
Hornet
Prosper likes Hornet, which is mutual.
Scipio
Prosper is very close friends with Scipio. He felt extremely betrayed when Victor revealed that Scipio was nothing but a liar, and the loot he had supposedly stole from fine houses were taken from his own home.
Bo
Prosper is extremely protective of his little brother, sometimes too overprotective, as Bo confides in Victor.
Portrayer
In The Thief Lord, Prosper is played by Aaron Johnson.
Ad blocker interference detected!
Wikia is a free-to-use site that makes money from advertising. We have a modified experience for viewers using ad blockers

Wikia is not accessible if you've made further modifications. Remove the custom ad blocker rule(s) and the page will load as expected.