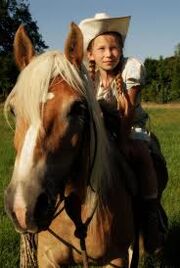 Mississippi is a horse who is a major character in Saving Mississippi.
Mississippi is bought somewhere in her life by Mr Clipperbush, and belongs to him until he dies.
Saving MississippiEdit
Main article: Saving Mississippi (novel)
Mr Clipperbush
Edit
Mississippi formerly belonged to Dolly's wealthy friend Mr Clipperbush until he passed away.
Dolly is asked to take in Mississippi after her friend Mr Clipperbush dies. Her claim takes on a twist after it is discovered Mississippi plays an important part in Mr Clipperbush's will, and Mississippi is contested over with Mr Clipperbush's nephew Albert Gansmann.
Albert Gansmann
Edit
Ad blocker interference detected!
Wikia is a free-to-use site that makes money from advertising. We have a modified experience for viewers using ad blockers

Wikia is not accessible if you've made further modifications. Remove the custom ad blocker rule(s) and the page will load as expected.