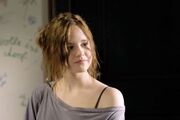 Frieda Goldman is a deuteragonist in The Wild Chicks series, and Charlotte's best friend.
The Wild ChicksEdit
The Wild Chicks On a School TripEdit
The Wild Chicks - Fox Alarm!Edit
The Wild Chicks and the Happiness of the EarthEdit
The Wild Chicks in LoveEdit
The Wild Chicks and LifeEdit
Personality
Edit
Frieda is a level-headed person. She is also very delicate and sensitive, and volunteers her time for charity group Terre Des Hommes.
Appearance
Edit
Frieda has black hair and brown eyes.
Ad blocker interference detected!
Wikia is a free-to-use site that makes money from advertising. We have a modified experience for viewers using ad blockers

Wikia is not accessible if you've made further modifications. Remove the custom ad blocker rule(s) and the page will load as expected.